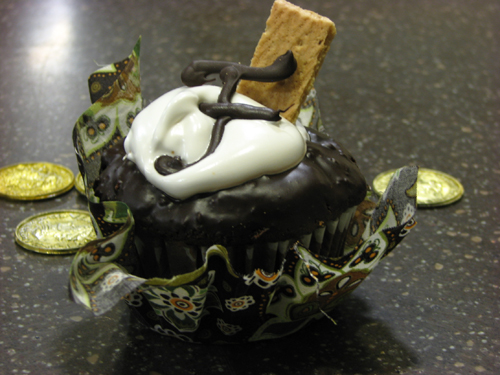 I say 'evil' more from a sense of moral responsibility than actually believing it to be true. There is nothing inherently evil in a graham cracker crust topped with a moist, dense devil's food cupcake filled with marshmallow cream dipped in dark chocolate ganache crowned with marshmallow meringue. Even so, such a combination does give an overwhelming impression of sinfulness. The kind of sin that results in either additional hours on the treadmill or elastic waistbands.
We join this frightening tale after the marshmallow cream has already found it's way into the center of the devil's food. A momentary flashback depicts the graham cracker crust being tapped into the bottom of the cupcake liners.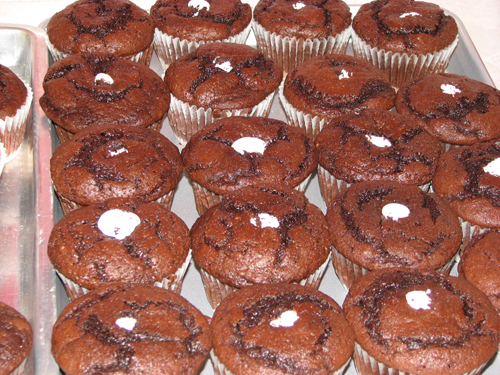 Spooning marshmallow cream into a decorator's bag can get a little messy, but plunging the metal tip into the cakey chocolate center makes the sticky mayhem well worth the effort.
Clearly the person in charge of documenting this experience got caught up in the debauchery and failed to photograph the events in detail, so we now jump ahead to sometime after the cupcakes have been frozen for convenience, dipped in ganache, and topped with marshmallow meringue, a bit of graham cracker and a semi-sweet 'F'.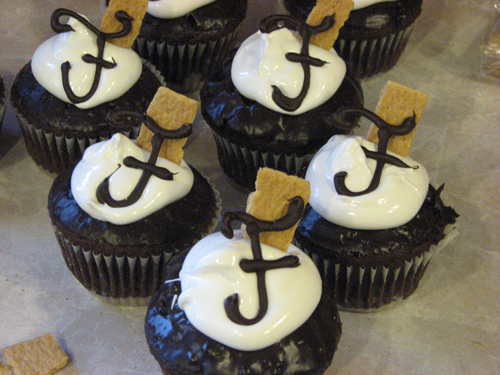 A cupcake of this nature isn't going to go out in anything less than a custom design. A square of stylish fabric coated in equal parts white glue and water then shaped and left to dry in a muffin tin is all the rage this year.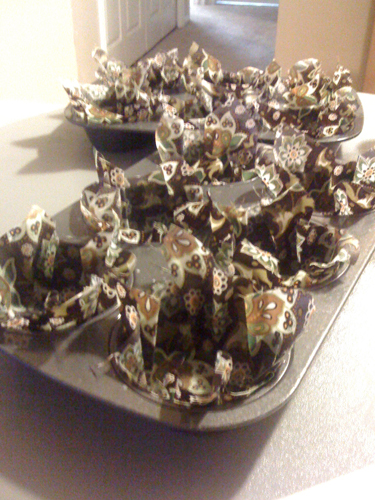 Delicious, gorgeous, evil…that can't be expected to stay  in on a Saturday night.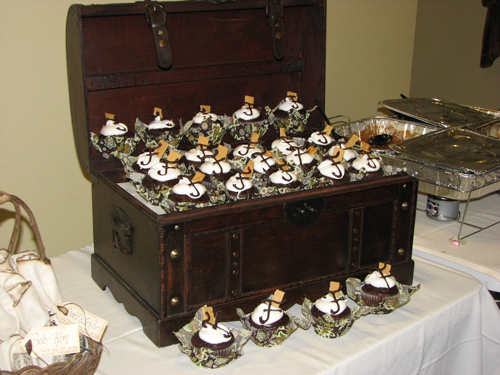 Another layer of chocolate decadence lurks inside the chest, waiting for an unassuming guest, disappointed they opted to play it coy instead of rushing the cupcake table, only then to  joyfully discover  more cupcakes hidden beneath the false platform.
While these indulgent yummies beg to be the center-fold of Modern Baking,  real beauty, and evil for that matter, comes from within…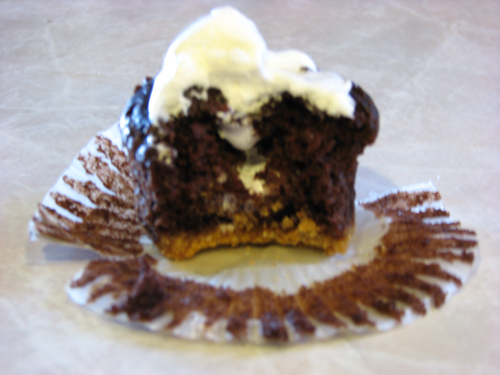 Graham Cracker Crust:
1 1/2 cups graham cracker crumbs (I put mine in the blender and use pulse)
1/3 cup sugar
6 tablespoons melted butter
Cupcake: This time I used a Devil's Food cake mix and added a small box of chocolate pudding.
Ganache:
1 cup heavy cream
8 oz semi-sweet chocolate chips
1 tsp rum extract
Slowly heat the cream on the stove top. When near boiling add chocolate chips and allow to sit for a minute or two. Stir til smooth, add extract.
Marshmallow Meringue ( This comes from the Smore's Cupcake recipe at Annies-Eats.com)
8 large egg whites, at room temperature
2 cups sugar
½ tsp. cream of tartar
2 tsp. vanilla extract
Combine the egg whites, sugar and cream of tartar in the top of a double boiler.  Heat the mixture, whisking frequently, until it reaches 160° F.   Whisk starting at low speed and gradually increasing to medium-high speed until stiff, glossy peaks form.  Mix in the vanilla until combined.