The arrival activity at the Fablehaven party was Tanu's potion lab. As the guests arrived they were led to the potion station, where they found recipes and all the ingredients they needed to create their own potions.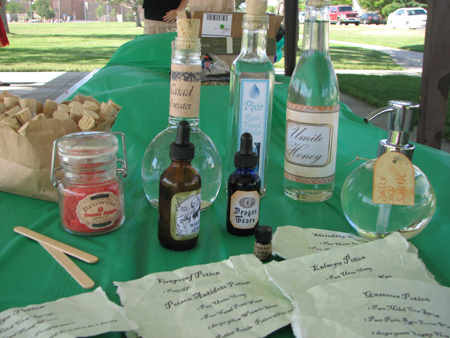 During the development of this idea we went through a number of possibilities for creating potions that looked interesting, yet were still consumable. The final ingredients along with their 'real' identities are:
Umite Honey – corn syrup
Milch Cow Syrup – corn syrup
Pixie Rain Forest Water – unsweetened invisible Kool-Aid
Naiad Water – unsweetened invisible Kool-Aid
Brownie Candy Apple Granuals – Red colored sugar
Dragon Tears – blue food coloring
Wizard Slime – green food coloring
Swamp Hog Saliva – yellow food coloring.
Each recipe was some combination of corn syrup, Kool-Aid, and food coloring. The vials each had extra-fine glitter in them from the beginning.
Download printable potion-recipes .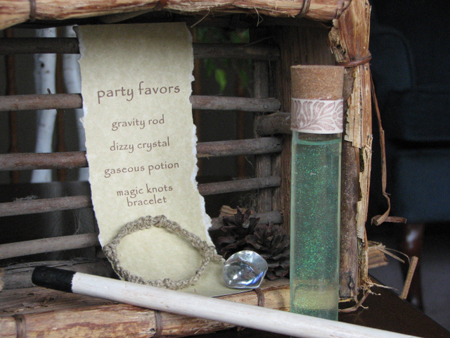 Our very first potion, for photo purposes, was actually just colored hand sanitizer with the added glitter. Unfortunately, I brought it along for display purposes along with a few other early tests. When one of the kids lost his potions I told him he could take the displays…only to remember a few minutes later that one of them was Germ-X! Rather than simply smell each vial, I foolishly dabbed them with my finger and tasted them. A little Germ-X flavor goes a long way…ugh.
I had the most fun with the labels….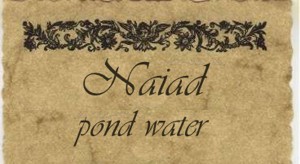 For our test tubes we visited www.testtubesonline.com. Imagine that! Plastic tubes and corks in all kinds of sizes.
I was thrilled with how well the potion lab entertained the guests. As the party was winding down many of the kids found their way back over to the potions to mix and shake some more. I hope you find an excuse to have as much with potions as we did!